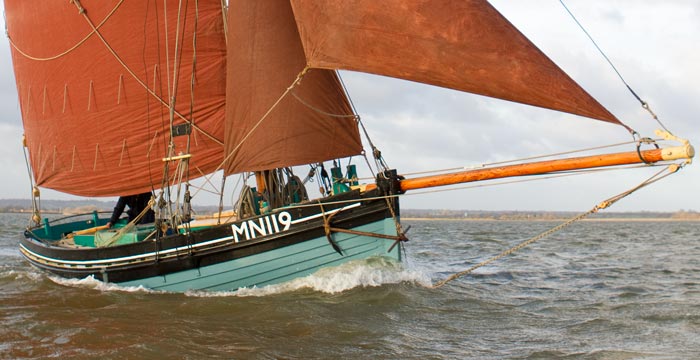 Marigold was built at Walter Cook and son, Maldon, in 1981. She is a Gravesend Bawley built upon the lines of the Lillian, built 1869. Gravesend Bawleys were built to work the lower reaches of the Thames, trawling for shrimps with a trim tram trawl. Larger versions such as the Lillian would occasionally stowboat for sprats in the winter.
Marigold is clinker built with 3/4 inch larch planks on steamed oak frames, with some cut grown frames. With a larch laid deck. She has never had an engine and is traditionally rigged with a loose footed gaff mainsail, topsail, foresail, and jib, the combined sail area is approximately 660 square feet.
Marigolds dimensions are:
Length                    30 feet plus 14 foot bowsprit
Beam                      11 feet
Draft                         4 feet 6 inches
Below decks Marigold is divided between the hold aft and fo'c'sle forward. The after end of the hold is used as a steering position whilst sails and gear is stored in the rest. The fo'c'sle has seating, cooking facilities and a coal stove for cold days. There are basic toilet facilities on board.
---
More photos of Marigold…